The Stireman Team
Bill, Gwen & Andy Stireman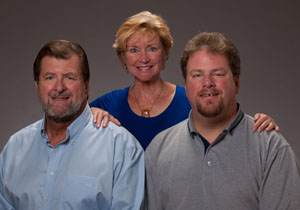 Families that work together...
are tremendously invested in results! The Stireman Team believes our clients and customers benefit greatly from our commitment to building and maintaining a successful family business. We three Stiremans have over 100 years of combined real estate experience and Bill has achieved the distinguished "Realtor Emeritus" status. Our sales volume speaks volumes: over $400,000,000 since we created our team! When working with both Sellers and Buyers, we utilize a full range of state-of-the-art tools and resources. Combined with Coldwell Banker's national presence and on-line marketing program, our clients are assured of the best support system available today.
The Stireman Team is proud to be a longstanding member of Coldwell Banker's "Chairman's Club"... among the top producing agents within the Coldwell Banker Schmidt Family of Companies.
Coldwell Banker Schmidt Family of Companies is a 90 year old firm with 65 offices and over 1,100 agents in Michigan, southwest Florida and northeast Ohio. It is the number one company for Coldwell Banker in the Northern region of the United States. It is unsurpassed in its "Global Luxury Real Estate" marketing and it boasts a primary distribution network which redistributes to up to 750 real estate oriented websites.
In addition to being leaders in residential real estate, The Stireman Team has received numerous awards for our commercial sales activity, including:
Michigan's Top Producer for Coldwell Banker, out of all its franchise and corporate offices, and
Coldwell Banker's "Top Producer" for its Midwest region
The Stireman Team consistently achieves Coldwell Banker's prestigious designations in its President's Elite, International President's Elite and Circle of Distinction categories... the highest designations awarded by Coldwell Banker.
Click here to contact the Stireman Team regarding Commercial Real Estate
Web Development by Byte Productions L.L.C.